Veselo – Our Story
Veselo Community Folk Dancers have provided weekly recreational international folk dancing classes for nearly 50 years. We teach and dance in a rented space at In Shape Fitness Center in South Eugene. In addition to dancing, a vocal music group has evolved that sings some of the songs for the dancers.
We have produced festivals each year from 1979 through the present. Folk cultures of the world need constant support lest they die out. The Veselo Community Folk Dancers resoundingly support the preserving and sharing of world folk dances, primarily Balkan and Turkish dances.
– Learn more about the Veselo Board
– To ask a question or share a comment, Contact Us
– To receive our newsletters, Subscribe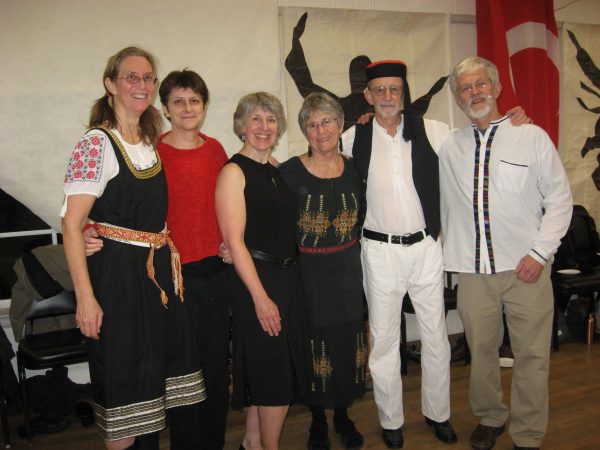 Our History
Veselo Community Folkdancers was established in the mid-1970s, under the leadership of Les Berg, Linda Berg (now Ketchum), and Tom Johnson. Prior to this Les, Linda and Tom danced with three groups in town: Eugene Folk Dancers, a student group at the University of Oregon, and with Sue Reagel, whose group had no name. They also attended various folk dance workshops throughout the state, to expand their repertoire of dances. When Sue decided to move away, she helped Les and Linda form a contract with Eugene Parks & Recreation to teach a weekly folk dance class at Westmoreland Community Center, as part of the city recreation programs. At that time they gave their group its present name. Les and Tom taught the beginners class and, later, various other dancers taught a concurrent intermediate class.
In 1979 Veselo developed its first weekend Festival at Westmoreland CC, featuring Armenian dances with Tom Bozigian. Their January time slot was chosen to fill an empty period for specialized workshops, prior to the annual Shrovetide (U of O) and Hoolyeh (Corvallis) workshops, held later in the winter and early spring.
Veselo Community Folkdancers became a non-profit (501-C3) organization in 1988, by incorporating under the auspices of Tolpa Folk Ensemble (a performing group), which was an established non-profit, and changing the name to Veselo Community Folkdancers, Inc.
Veselo continued as part of the city's Parks and Recreation system, at Westmoreland, until the late 1990s. It finally settled in at InShape in 2001. Initial Festivals were held at Westmoreland CC, but went through a series of other locations for several years. The Festival finally established The Vets Club as a permanent location in 2002.
Throughout the years Veselo members often went out of town to attend folk dance camps and workshops. A primary magnet was the Stockton Folk Dance Camp in California. Many new dances were brought back from these camps, and it also was a source for discovering new professional dance teachers for the annual Festival. Later, the Balkanalia! Camp, in Oregon, became a major source of new material and teachers.
During the late 1980s and early 1990s dancers from Veselo were invited to perform at various events, included the Eugene Festival, and for organizations, like retirement homes. This was not only a great entertainment for the public, but also an opportunity for recruiting new members. Veselo Community Folkdancers has been an ongoing source of education and recreation for over 40 years and plans to continue that function for many, many more years.